An Easter Story
The following story of love, healing and closure started with a small but very LARGE request. I will attempt to recreate what happened in a chronicle type format. During this period, most of the electronic Lima 3/5 family was included in the process by forwarding and sharing emails. Some email messages have been edited to eliminate spelling errors however; some totally misspelled words were kept for content purposes. I hope as you read, you begin to feel what has happened to the principles involved and the incredible feeling OF closure many of us are experiencing as a result of the simple query.
On Wednesday, March 31, 1999 3:14 PM Robert "Hank" Henry receives the following email from Wayne Motts.

Dear Sir,
I am a historian in Gettysburg, PA and have volunteered my services to write brief biographical sketches on each of the 18 men from this county who died in Vietnam, for Memorial Day and the visit of the Traveling Vietnam Memorial to Gettysburg. One of our soldiers from Adams County, PA and a graduate of Gettysburg High School was John Charles Holoka of Company L, 3rd Battalion, 5th Marines who was killed in action in Operation "Hastings" on July 22, 1966. I was hoping you might be able to put me in touch with a member of the company who was with John when he died, who could tell me of his death and also of his service in Vietnam.
He has two sisters living and I will meet with one on April 7. I am sure she would appreciate speaking to anyone who knew here brother. I know it would help me in writing his bio.

Thank You,
Wayne

On Wednesday, March 31, 1999 10:31 PM Hank replies to Mr. Motts inquiry with the following:
Deeply touched we are by your request ...
I am directing your request to two sources: John's Company Commander was Reiss Tatum

A `grunt' contact is "Yukon"

PLEASE reference your inquiry that you have contacted Lima 3/5 Reunion HQ and have been referred by me, Robert "Hank" Henry

I applaud your efforts and wish you the best of success ... for we all seek validation and truth.

Semper Fi ... Hank

On Thursday, April 01, 1999 7:22 AM Wayne thanks Hank for the new leads in his quest.
I thank you for all your help, Hank.
Wayne


On Friday, April 02, 1999 2:19 AM Hank sends the following email to Richard Hoffman the Lima 3/5 Webmaster.
Richard
Received a message the other day from a guy who surfed in our YOUR website ... in search of some truth and closure over the death of one of our own, John Hokola ... KIA 22 JULY 66.

He was researching John's death on behalf of his two sisters and a memorial dedication to the fellas who were KIA from their home county.

I began crying yesterday ... am still choked ... but we (you) made a difference that validates all we have done ... and for that I feel whole.

Bless your heart for creating the window ...

Semper Fi ... the Hankster ... proud & grateful

On Thursday, April 01, 1999 10:41 AM Wayne sends the following to the two news leads he received from Hank.
Dear Sir,

I was provided your name by Robert "Hank" Henry from the reunion page of Lima 3/5. I am a historian in Gettysburg, PA, and have volunteered my services for this Memorial Day weekend to write short biographical sketches on each of the 18 men from this county who died in the Vietnam War, for the Travelling Vietnam Memorial which will visit or city. One young man I have been researching is John Charles Holoka of your company who was killed in action during "Operation Hastings" on July 22, 1966. I was hoping to ascertain, for the sake of history and his family, some information regarding this soldier for his sketch. He has two sisters living and I will interview one in Gettysburg on April 7. My sketches are more than just facts and I wish to capture the essence of the man by including some quote or information from those that knew and served with him. Any information about John would be helpful to my work.

In addition the detailed circumstances of his death have alluded the family and myself. His death report indicates he died of shrapnel wounds. The command chronology states there was action that day both in the morning and
a mortar attack at night. I assume, but do not know for sure, he died in the mortar attack that night.

I can assure you my only purpose for collecting the data is for the sake of honoring John and his service. I have been researching these 18 men at my own expense and on my own time. I have and never will be paid any fee for the work. Any information about John Holoka, including contacts of those who knew him, would be helpful.
Thank you for your time and consideration.
Wayne
Gettysburg, PA

On Thursday, April 01, 1999 3:59 PM Yukon responds to Wayne
Dear Wayne,

Your letter this morning took me completely by surprise - and back to a very painful time in my life. I was with Corporal John C. Holoka during the Battle for Hill 362 during 'Operation Hastings'. I was the first to reach him during a mortar attack, which took place in the evening of July 23, 1966. I tried desperately to save him as he was severely wounded by shrapnel. I write as a hobby and have written much about this terrible event. My 'The Battle for Hill 362' is in our Company archives, and Robert Henry is very familiar with the story. I was honored last year to have the story placed in the library of the present day Lima Company, Third Battalion, Fifth Marine Regiment. Do to the nature of this battle we couldn't get him medivaced soon enough. You can't imagine how many times over the years I have wanted to talk to his (John's) family - but thought it best to remain silent. I mentioned this to Captain Reiss several years ago at a reunion we attend every year in honor of our fallen brothers. That year the reunion took place in Washington, D.C. and the discussion took place at the Wall. He urged me to get in touch with the family and for a while I considered driving to Gettysburg. But still I just couldn't bring myself to open up what I thought would be old wounds within the family. Your letter this morning has been very comforting to me and I would like very much to share this story with you and if you feel it appropriate - to send it on to John's family. I was aware that he had a couple of sisters and I am sorry that his mother has since passed away - it was she that I wanted to talk to the most. At least I assume this from your letter. If you would write me back with an address I will be glad to send the story to you. It is written in Microsoft Word and unless you have this I'm not sure how it would come to you as an e-mail attachment. Let me know, as I will send you the opening letter to this story as an attachment. John and I were very close towards the end and I miss him very much to this day. Good Luck with your project.
Sincerely
Yukon

On Monday, April 05, 1999 1:11 AM Hank writes this ditty!
Yukon
After reading your response to the request I broke down and cried ... in my memory this is first time I have opening wept. They say to cry is normal ... well, guess I'm getting normal real quickly.

I dearly thank you ... for a lot ... forever!

Semper Fi ... Hank
On Thursday, April 01, 1999 4:27 PM Under unbelievable conditions Yukon worries about his brothers with note…
Hank
Hey Brother! Howzit?
Sending you this. You can imagine how it knocked my socks off this morning.
Luv Ya Bro! Will write you more later. Semper Fi!
Yukon

One Thursday, April 01, 1999 8:51 PM True to his word, Yukon writes.
My dear Brother,
Yes, I think it is sometimes good to cry. We may be the meanest and the badest. We may have done incredible feats of valor and survived the battles - but I still believe the greatest strength of all is in being gentle - for it is the hardest to obtain. I too cry occasionally. Sometimes late at night when I am writing about the war the tears are streaming down my face - and I pray that no one comes in and sees the Slice (or Yukon) in this way. But afterwards I feel better and realize there is a purpose for surviving. Think of all the moments we have witnessed with our Company of brave souls. The tears of laughter and the tears of sorrow. There have been many times during our reunions when you have probably looked over and caught me a little misty eyed (wasn't just the booze you know). Off the top I can think of the hug that Terry and Les gave each other in D.C. The tears that came to me when Dave and I talked at the pool in Vegas - when he knew he was dying. Or watching Frasier as a tear slid down his face last year, again at poolside, as he composed his very eloquent speech. No, my friend - you are probably the most normal of us all and I am very proud to call you my Brother. You can imagine how hard it was for me to open up that request this morning labeled 'John Charles Holoka L 3/5' . My hands were trembling so bad I could hardly use the accupoint on my laptop. And when I started to read the request the hair on my neck started to crawl. Those few sentences sent me so completely back to the Nam and that particular tragedy - that I am still shaking. And that after some pretty stiff whiskies. I have a feeling that this will lead to other things. I almost felt as if John were next to me. Letting me know that there IS peace - and gentleness. And, that with all that has been happening in my life lately - it will never be that hard again.
Luv Ya Bro! May be headed yer way - ya never know.
Semper Fi!
The Yukon

On Friday, April 02, 1999 2:11 AM Hank Tells it Like it IS.
Yukon
This one has me! I can't get this `event' off my mind. Knowing that we (you) have brought together a life long search for truth and closure, especially for the 2 sisters, is just too much ...

If we never do another thing ... all will be well in my heart, for we have touched hearts we never knew, and made a difference ... the very essence of the Marine Corps ... making the difference ...

I need a hug bro' ... bring it to San Antonio ...

Your brother …
Hank
On Friday, April 02, 1999 2:45 AM An after thought!
To Yukon
Semper Fi ... says it all ...
Hank
On Friday, April 02, 1999 11:05 AM Wayne writes to Yukon
Yukon
I can not thank you enough for the help. If you can enail the word document that would be great. I can not speak for his sisters, but I will meet with Sandy who lives just north of here on April 7. His sister Ann lives in Washington, DC, I have not spoken to her yet. The date listed for John's death is July 22 not 23 as you listed is this correct? I assume according to the command chronology he was hit at night in the mortar attack. I will pass all this on to Sandy, I am sure she would be interested. I think it is important for all concerned. It is nice to find a friend of his. If I could write one quote from you about John, how would you like him remembered? Certainly you knew him as well as anyone. Holoka is listed as a fire Team Leader was he your team leader? I guess your article will explain the whole thing. if the family wishes it, I can place you in contact and then perhaps you could see about meeting them. I emailed Captain Tatum and he said to call he would also help. There is little I can do or say to thank you and John Holoka for your services, I was born on December 14, 1966, so I was not around at the time of John's death. I hope you find my efforts worthy.
Thank You,
Wayne

P.S. While I was writing this to you Sandy Holoka called me. her email address in xxxxxxx.aol. She said she would love to hear from you. I still would like the article for me.
THANKS!!!
Wayne
On Friday, April 02, 1999 3:52 PM Yukon replies
Dear Wayne
Thank you for your very kind letter. Age does not play a part in this story - only time. After opening your letter yesterday I found myself engulfed in a time warp. As I mentioned your letter caught me totally by surprise and sent me right back to the battle. When I first saw the e-mail labeled 'John Charles Holoka L3/5' my first thought was who would be this cruel to play this type of April fools day joke. The name alone left me trembling at my laptop and I could hardly move the accupoint in order to click read. My thoughts were in turmoil at first as the battle raged on - the sounds of Nickerson's screaming and echoing through my head. But as I read on I realized your intent and purpose. And although you weren't born yet when that awful night took place - your responsibility as a historian will address it and put it to rest forever. I have been going through some hard times lately - an age thing I suppose. And what this has done for me is incredible. For once the smoke and noise cleared from my head there was a
peace of which I have rarely known. I truly felt John's presence by my side for the rest of the day and even now. You ask me to describe him. That is both easy and hard at the same time and I think your sensitivity as a person can equate to this. After you read the 'Battle for Hill 362' (and I hope it gets to you in one piece) you may better understand what I am trying to say here. I prefer to remember him this way: I shared a fighting hole one night with Corporal John C. Holoka - shortly before his death. It was on Operation Hastings and a very turbulent time. It was the first operation to throw Marines into the mountain highlands of Vietnam - along the DMZ. We flew in
by helicopter and caught the 324th B Division who had attempted to infiltrate across the DMZ from the north. We flew into what is known as a hot LZ (landing zone) and intense machinegun fire and then fought a constant battle from then on. It was a 'conventional' type of warfare against an enemy that was well supplied and who totally out numbered us. John had volunteered to go on this mission. He was a short timer and didn't have to go. I spent the night with him in a fighting hole. He had been given I believe what was left of the Second squad. Nickerson, Lopez, Holol and I think Palardy. I was with what was left of the Third squad. A full squad consists of three fireteams
of four men each, a grenadier and a squad leader usually a corporal or above. So we were down in numbers because of all of the fighting. We were paired off by two's at night while trying to maintain a protective parameter around what was left of our dwindling company. And that's how I came to spend a night with John. When it's dark and you are staring into the dark at death - you get to know someone really quick. John was much older then me - he was twenty-one (I was eighteen) and had been in the Corps a long time. I remember being scared that night - we had by then been through so much. I remember his soft words through the night. Calm and collected. Leading by
example - a Marine heritage that he believed in and established right off. He would turn my thoughts of fear towards home and how much we had to look forward to. And he would talk of his home and the girl that he was going to look up when he got back. He talked about going back to college. He was already somewhat educated - you could tell by the way he addressed things. All the time speaking calmly - almost fatherly. He wore spectacles and I would sometimes look over and see him trying to write in the dark by cupping a match. I don't know who he was trying to write - I assumed his girlfriend. Those things are private to a man and you don't ask questions. But he would catch me now and again staring intensely into the night. He'd grin and pat me on the shoulder always reassuring. I liked him a lot. You can feel these kinds of things when your senses are on a hundred percent alert. That night ended without incident. We had once again survived. But he had given me a sense of security during a time of great anxiety. So I hope to some degree I have given you a little about the profile of this man. There is no doubt that had he lived I would have learned more from this man. And others would have learned much. He was gentle and kind. And as a Marine NCO (Non Commissioned Officer) he at the same time exuded strength and confidence. I can't reconstruct what happened during that mortar barrage. We were all just trying to survive - but my guess is that he was trying to go to Nickerson's aid when he was hit. I look back on it now and consider myself lucky to have stumbled into his fighting hole that night. When he touched me he left me with some of his strength. I will gladly talk to his sisters. Their Brother was and is a hero to me.
Sincerely
John F. Harris - Sergeant
United States Marine Corps - (Please let me know if the story gets to you intact.)
On Friday, April 02, 1999 4:02 PM Yukon remembers more.
Wayne
One other thing - about the date. A lot of times information coming from the battlefield could be a day or two off. Nor were we as precise back then. I use the 23rd based on what happened to me chronologically and the events that took place on the following day - which seem to be correct in the history books. There are several dates that are wrong on the Wall -. but very well recorded in the annals of the universe. Thanks again my friend for your very personal touch in this matter.
John

On Friday, April 02, 1999 4:05 PM Yukon decides this is too much and shares this great happening with all of his friends and Lima 3/5 family!
To everyone
The story continues my friends - thought I would share it with you. You have been a part of it.
I love you! Semper Fi! Yukon

On Friday, April 02, 1999 5:48 PM Wayne thanks Yukon for all of his help.
Yukon,
Thanks for all the great material. I sent your email and address to John's sister Sandy and also that of Captain Tatum. The command records show mortar attacks at 2045 hours and 2210. I am not sure and of course it could also have been after midnight. I appreciate your help. When I get the sketch published on John I will send you a copy. I'll talk to you later.

Wayne

P.S. I hope I did not drag up too many bad memories, that was not my intent.

On Friday, April 02, 1999 5:19 PM Yukon needs to contact John Charles' sister.
Dear Sandy,
By now Wayne has informed you of our communication regarding your brother Corporal John C. Holoka of who I was very proud to have served with in Vietnam in 1966. He was and is one of my hero's. Sadly I was with him shortly before his death on the night of July 23, 1966. I hope the following communications get to you intact. This has been real emotional for me so please excuse me for any mistakes in trying to relate how this man has so effected me over the years. Always in a positive way. I feel his presence by my side even as we speak. Rarely has one person had such impact on my life for all of these years. It is hard for me to describe the horrors of war and the wastefulness and stupidity of it all. But your brother was a shining star. One who has lit up my life. I was very privileged to have known him. Yes I was by his side after a devastating mortar attach that evening. I'm sorry - I truly am that I could not do more for him. He was very badly wounded. Please believe me when I tell you that he suffered no pain - or at least never gave me any indication of it. Instead, through this whole terrible situation - he although severely, wounded consistently tried to maintain calm - was calm. And without regarding his own situation was trying to get to PFC. Nickerson when I got to his side. I hope you can get some idea (by what I send you) of how frustrating it was for all of us - who tried so desperately to save him. Your brother is a Marine. Marines go to great lengths to take care of their own - especially in situations like that night. Nothing was spared in trying to get him to safety and off the battlefield. I loved your brother and still do. He was a leader and showed me that night the responsibility of that position. I was an eighteen year old PFC., but I know he was standing with me the next day on Hill 362. Through his efforts and sacrifice we were able to save India Company. He gave all. I miss him. He IS my hero. I hope to hear from you. And although I have a very strong mental image of him - if you can send me a picture of him I would be forever grateful. I encourage you to visit our website where we honor our brothers - and will continue to do so for as long as we breath. They left us a legacy! www.members.tripod/Lima35. I sincerely hope all of this hasn't been too painful for you - your sister Ann or your families. John is loved by many. If I can be of any further help - please call me any time - day or night.

Sincerely -Your Brother-
Yukon
On Friday, April 02, 1999 6:06 PM Wayne has started to feel the healing goin' on….
Yukon

I just had a minute to sit down and read the short letter you sent me regarding that NDP near the DMZ. I must say it moved me just to read it. My full-time job is as a Civil War historian, I work for a painter named Dale Gallon who paints limited edition military art, and on my days off from this, I have been for 11 years a licensed battlefield guide at Gettysburg National Military Park. I graduated from The Ohio State University with a degree in military history. In short, I have spent my entire adult life studying men in combat, yet never a veteran myself feel unable to understanding the majority of their plight. What I do know is I am lucky and blessed. This work has been so rewarding to me I can not tell you. This is the second case where I have been able to link a family to those that knew
their loved one in Vietnam. If you come here someday, I could, if you feel you could or would like to go, to John's grave a short distance from where I am sending this email. Also, I could show you the sites. I offered my services to your reunion group as a guide on the field, any day of any year I am here if you wish. I would give the tour at no charge in John's memory to the group if you had a reunion near here. I know John's sister will speak to you she called me today.
God Bless,
Wayne
Friday, April 02, 1999 6:16 PM
Wayne
No sir! I think you have handled this very well. No the mortar attach came shortly after dusk as I mention in the story - so would have been closer to 2000 - if not earlier. It became very dark - very quick. I hope the story clears up some of what you have interpreted from existing documents. I hope it gives you an idea of what it was like. You are my son's age - but as I have stated 'age has nothing to do with it' - only time. In your career you will have to deal with this very real third dimension. You are doing fine young man! And it is certainly a privilege to share something so personal with a person that can appreciate it. What you are doing in honoring those men that fell in tragedy from your hometown is to be commended. I hope you continue to explore All of those that have given all for this great country - right or wrong. there is a beautiful story behind each and every one. Yes I would be honored to have a sketch of not just John - but of all my brothers from your hometown. I feel compelled to be present at your presentation on Memorial Day - ya never know. Thanks my friend - you have helped me to smile again.
Sincerely - Yukon
PS I have written Sandy - You give her a hug for me! That's an order!
On Friday, April 02, 1999 6:26 PM Yukon responds
Wayne
Thank you my friend! An honor I hope to one day except! Carry on with the
good work! (that's an order!)
Yukon
On Friday, April 02, 1999 9:38 PM Sandy, John's sister responds to Yukon
My dear John,

Today has been so eventful from the moment I talked with Wayne this morning, I scarcely know what to think or feel. Oh, my dear, I so appreciate your responding to Wayne so promptly and sending so kind and considerate a letter to me I can barely see the monitor for tears. I am so emotional at this point that I will not write much tonight. Please know, though, I shall certainly send a picture of our John to you so soon as I can. But, John (you know, I trust, that John was defined many years ago as "a gift from God"; our John was and you have more than demonstrated you are too) thank you for helping our John when he was so very far from home when we did not even know he was hurt (although my Mom somehow knew that night as we talked the next morning of her concern about him). Nearly 33 years has not diminished my missing him. Well, thank you seems so hollow, yet it's the best I can do at this moment.

Good night, young fella. Will write again soon.

Warmly,

Sandy

On Saturday, April 03, 1999 12:25 AM Sandy sends an early morning message.
Dear John,

I wanted to let you know I received the full version of your obviously difficult work. Some time ago, I purchased Office 97 so it was easy for me to retrieve and print out the entire text.

I cannot imagine how difficult it surely was for you to write your experiences (thank God you recovered); am not yet able to read it through; maybe tomorrow. Perhaps my problem in knowing what you fortunately lived through has to due with my more than three decades of anger, resentment, and longing to make history different. What you and your fellow Marines endured and survived changed dramatically the future and fortunes not only of you but
also of families states' side; at least it did mine.

You are an excellent writer. If that is not your current profession, I trust it is your avocation.

Good night,
Sandy

PS I dearly hope, when I complete reading your paper, I may find the release I need to begin living again. Somehow, I'm stuck in 1966. Am sure other families are the same, yet it is so deeply personal to me - the persistent anguish, that is.
On Friday, April 02, 1999 11:51 PM Yukon responds to Nancy, Nancy replied to Yukon's broadcast earlier…
Dear Nancy
Thank you for your beautiful reply. I too am charged with emotion. I have not been able to eat for two days. A week ago I was destitute. Devastated from loosing my job and through other things (long story) finding myself deep in dept. I was feeling pretty sorry for myself - wondering how I could possibly get my life back together - seeing everything I have ever worked for going down the drain, and generally a pretty miserable excuse for self pity. And then John comes back into my life. I'm not a religious man - but I have been fortunate throughout my life to know of guiding angels, and they have appeared at critical times in my life - both on and off the battlefield. I know that I have called to John before - mourned his death - and asked WHY? And now he has chose to once again share with me. He was always that way - putting everyone else in front of himself. I now find myself richer beyond belief. He has reminded me that no sacrifice is too great - no hill is too high. NO! THANK YOU dear lady for sharing your brother with me with me. I can't take his place as your brother. But, I am a Brother, and I will always be there for you.
Love You!
Yukon
On Saturday, April 03, 1999 12:34 AM Yukon responds to Sandy's earlier message.
Dear Sandy - I'm glad that it came to you intact - But I am sorry for the pain it may cause. I try to write the truth - and about the truth - John would have wanted it that way. Take heart dear sister this has been a long day in both of our lives - I will talk to you later - tomorrow.
Goodnight - and thank you.
Bless you . . . John

On Saturday, April 03, 1999 5:41 AM Who can sleep in these kind of feelings. Yukon send Sandy another message.
Dear Sandy,
Sister - and I hesitate to use that word just yet. I apologize for addressing you as Nancy earlier. I won't make any excuses - I'm getting senile in my old age. We have a beautiful family - L Company 3/5, and there are several Nancy's that have had to deal with some pretty hard situations - and I admire them greatly. (oops I think I just made an excuse?) I have over the years so much wanted to talk to your mother. Yes, she gave birth to an incredible man. Perhaps you have children of your own. A woman has an understanding of the universe far and above any that a man might come to recognize in his brief connection while speeding towards his doom. My mother was the best friend I ever had - and have had - and I have many. I just somehow wanted to share with you that your anger is understood - and appreciated. If you can get through my story and history of who we were/are - then you might understand that. We had a job to do - most will never understand that. Except those that were there and went through some pretty incredible situations to do it. It wasn't a political thing or a personal thing with us. It wasn't just a question of survival. It was the right thing. You and I grew up hiding under windows. Air raid drills at school in preparation of the big bomb. Fear! That world no longer exists. We no longer hide under windows - now we use Windows to communicate. I have five children. I will not justify the stupidity that happened in the war in Vietnam. But by going up against an attrition and meeting it head on from the beginning - we at least dealt with it - and suffocated it. My kids don't hide under desks - like I once did. Did we or your brother make a difference? Yes, I would like to think so. I know so! I can feel and understand your pain and frustration of loosing an important piece of your family - and mine. John. But it wasn't in vain! You have to believe that - he gave the best of himself towards that purpose! I do believe - and I was a witness. I know a beautiful part of this earth because of that. You may think me a quack for saying that. But, I teach my kids to go forth and explore . . .Not to hide.

Just wanted to share that with you for what ever it's worth . . . Luv . . .

Yukon - Sorry Friday night and I'm getting drunk and disorderly(damn - another excuse!)

"Editor's note: Who can blame you, three days of feelings like these. Lov Ya Bro
On Saturday, April 03, 1999 11:48 AM Wayne is still hard at work!
John,
I spent nearly two hours on the phone with the "Skipper" last night and he gave me all the details from his perspective. Do you remember the others that carried John up in the poncho. The captain seemed to think Al Ross was one of them?
Wayne
On Saturday, April 03, 1999 3:44 PM Yukon provide Wayne with the information he needs.
Wayne
I'm glad you had a chance to talk to Reiss. I still call him Captain. I've nothing but respect for that man. He did the best he could with what he had during a period of time that most men couldn't begin to comprehend. In fact I have been blessed to have served with so many fine men. It is always an honor to get together every year at our Reunion with those that survived. Gunny Ross (Sergeant Major Retired) is another I have an unfathomable amount of respect for. If you got the story on Hill 362 that I tried to send you yesterday intact let me know - and I will try and send another story devoted entirely to him. He seemed too be everywhere that night trying to bolster our moral and organize our defenses in case of an attack. He may have helped with carrying John the final distance I just don't remember. All I remember is that it was just so damn dark! I remember there were about four of us and as I mention in my story - to get him off that hill and through that ravine area to where they were trying to organize a medi-vac - was about the most exhausting thing I have ever experienced. We were racing the clock. And it just plain ran out. It was just so damn frustrating. I wasn't actually with John when he passed away. That happened on board the helicopter on the way back. But Robert Lopez was with him and I know would have comforted him till the end. Just between you and me my friend I don't think he would have made it anyway. Without getting graphic about it - he had a very bad head wound. That is why I don't think he was feeling any pain. Just know that we all tried so hard to save him. Imagine! This type of effort was going on constantly throughout this whole operation. It was a rough one. They all were. I am so proud to have joined the Marines. One of the reasons for doing so was their reputation for going to any exstreme to get a man (men) - alive or dead . . . home. We did. And it worked as well for me. You
mentioned your purpose as a historian. That you didn't quite know how well you would do in battle. You'd have done fine, my friend. You have already joined the team.
Take care!
John

On Saturday, April 03, 1999 4:08 PM Wayne writes,
John,
Thanks for the fine words. From all I have collected regarding John's
injuries and also your testimony, is seems his wounds were mortal. It
appears all of you did as much as mortal man could do. When I talked to the captain he said outside his wife and children, command of Lima Company was his greatest accomplishment. He was proud of his service and you guys. I could sense this easily.
Best Wishes,
Wayne

On Saturday, April 03, 1999 4:08 PM Capt. Tatum offers Wayne some help.
Wayne,
one small afterthought from our conversation: although Marines are sometimes called "Soldiers of the Sea," all Marines greatly prefer to be referred to as such, ("Marine") rather than by the generic term of "soldiers." No disrespect to our Army brethren intended, but we are intensely proud of the heritage that marks our differences. All Marines, past and present, rightly or wrongly, consider themselves elite, and not to be confused with other types of mortals, military or otherwise. If you are familiar with the Marine Corps Hymn, then you know who God has chosen to guard the streets of heaven.
Happy Easter
Reiss
On Saturday, April 03, 1999 3:47 PM Yukon gives an OohRah to Capt Tatum
Reiss
Thanks Skipper! I needed that. Been pretty emotional around here lately. . .
Semper Fi!
Luv Ya!
John

On Saturday, April 03, 1999 5:53 PM Yukon give the Captain another OohRah
Reiss
Very well done Sir! OORAH! Wayne Motts seems to be a very nice young man, and I am sure from and through all of this, has come away with a better understanding of who we Marines are. I would give anything to be at his presentation on Memorial Day. I still haven't decided what I am going to do with my life at this point - but Florida is not out of the question. I will call Dave soon. I would like you to share our story with him as I think it would mean a great deal to him and also Ed Conti. You were our officers. And were faced with a tremendous amount of responsibility. I know that any loss was felt more deeply by you - for you had the sad detail of writing the families of these men - our brothers. You men - each and every one of you and that includes Lt. Harrington and Anderson, led by example! And your example was such that I would follow each and every one of you back into HELL - anytime any day. I think all of this has been about as great an Easter message as any of us could have received. To know that tomorrow two sisters will sit down at a table with their families for an Easter dinner and know a little more of who the Marine - their brother John Charles Holoka - OUR brother. . . was. Love You Captain!
Semper Fi!
John

On Saturday, April 03, 1999 6:19 PM Wayne says I've had it!
Thanks again,
I am going to call it a day here and go home.
Thanks
Wayne
HISTORY - His-to-ry 1. an account of what has happened, esp. in the life of a people, country, etc. 2. all recorded past events 3. the branch of knowledge that deals with the recording, analysis, etc. of past events.

Yes my friend - go home. You have been through a lot these past three days. I hope you enjoy the satisfaction of your work and albeit sad - a happy ending to a worthwhile pursuit. I hope your research into my other 17 brothers from your hometown is as fruitful and rewarding. To volunteer is not always easy and not always rewarding at first. But, in the long run (and sometimes this is only after many years) a volunteer will gain the satisfaction that he/she gave more - than received. You take care my young friend. We will stay in touch. If for some reason you ever find yourself with extra time on your hands try to find Robert Lopez for me (for you). He was the last to be with John. He ended up extending his tour to avenge my brothers, and may have done another tour. (Many did. I would have had it not been for that danged land mine.) I heard he made it back okay. I heard he was with the Border Patrol but don't know which border. He was from Texas. I mention this ONLY if you ever get the chance. Thanks and take care.
John
Saturday, April 03, 1999 11:38 PM
Dear Sandy,
I hope I didn't offend you last night by what I said. I'm not a redneck in spite of my nickname Yukon - which I got in the Corps. I just wanted you to know that I know how you feel. I have had the best Easter gift presented to me ever by your's and Wayne's caring. I hope tomorrow that you can sit down with your family and maybe Anne's - for an Easter dinner and gain from this emotion of the past three days. I know your brother John is with me as I write. Will always be with me.
Love - John
Sunday, April 04, 1999 11:42 AM
Dear John,

Please accept my very warmest good wishes on this Easter morning. Hope you remembered to set your clock an hour ahead!

Yes, Friday was a marvelous, though a bit difficult, day for me. Never would or could you offend me! So, enough said. Six years ago, Jack Biggins (former Marine who served in Vietnam in 1966, also from Gettysburg) began an annual golf tournament to raise money for a private, nonprofit transportation service. He memorialized it in our John's name. Jack, too, was younger than John. He and John played baseball and football together and he always liked John a lot. Mom and I were thrilled that John was still remembered so fondly and that his name was central to an event to help others. Well, to make a long story short, two years ago, Jack died from complications of what should have been standard, elective surgery. His son, Tim, has continued leading the annual tournament and added his Dad's name. Yesterday, I received notice of this year's tournament from Tim. Maybe these recent events (Wayne, you, your pal Jim Stewart, Robert Henry, Captain Tatum) are not coincidental at all?

I read fully your account of Operations Hastings. I am awed by you and your fellow Marines. Cannot imagine how hard it must have been for you to relive those terrible days, save only they were more lastingly marked by such courage, compassion, and friendship among men. May I thank you, again, for forwarding it to me. Wow, I sure wish I knew you better. Even without that privilege, please know you have a great big bear hug from me and my eternal gratitude for who you were and are now.

Later today, am going to a friend's home for Easter dinner (we went to high school together in Gettysburg). My friend, Ann, husband's name is Paul Vanderlipp. He served in the Navy during Vietnam. I am taking a copy of your story with me so that he, too, may read it when it is right for him. He, too, is a grand fellow.

So, young man, enjoy the renewal of Easter and Spring. Please know you will be on my mind all day. Hope your children, or some of them, are a big part of today for you.

Bless you, John, for all you've done for me and my family (especially, John).

Love,
Sandy
On Sunday, April 04, 1999 1:14 AM Richard calls
Yukon, Hank
I'm sitting here a total mess. Are we Coming Home are what? This is probably the most incredible thing I've been involved with and it is my greatest pleasure to be a part of it. My Brothers, I can't stop crying. I don't know if it is because I'm crying for those on the Wall or if I'm crying for us or if I'm crying for happiness or if I'm crying for sadness. I'm a mess. I am so happy for you John I can't believe it.

Welcome Home My Brothers
Semper Fi
Richard
On Monday, April 05, 1999 2:30 AM My BIG brother responds
Well, Rich I hope you got everything I sent. As you can see it was a very heavy couple of days and hasn't ended yet. Your e-mail and call this morning was so very comforting. I haven't known you for very long - only about 224 years - but in that time I have always known you to be my BROTHER.. Love you man! Don't know if all of this stuff got to you in order or not - so you might want to check out the dates and times. Try to organize and get it back to me - through the web site or whatever. There will be more on this I'm sure - so will keep you appraised.
Semper Fi! John

PS - As we touched on it this morning - maybe this story will help further other closures and healing . . . John Presnall and I had a good talk today. Was nice to spend Easter with family.

On Monday, April 05, 1999 5:58 AM Yukon is wired…
Dear Sandy,
Thank You! For all of your wonderful words. I think all of this has been a sort of closure for us. The one problem that I and many of my brothers faced when coming home - is that there was rarely closure. So many of us left men like your brother behind physically. But their souls were branded into our minds and hearts through the throws of battle - and the depth of their sacrifice. Something (fortunately) that the average American will never have to endure. I have to share with you that most of us (Vietnam Veterans) will agree that when it came down to it - we did not fight for this Country - nor it's politics. Nor did the politics of the times effect our fighting. For when it came down to it - on OUR battlefield - we fought for EACH OTHER, and what WE believed to be right amongst US. I can't tell you enough how much your brother exemplified this attitude. He didn't have to go with us and he knew it. But he chose to go anyway. I'll never know exactly why. Only he would be able to answer that. And I can't answer for him. But, I guess what I have tried to relate to you and Wayne, through all of this, is that in the short time I knew him he related to me an attitude of caring enough to want to come into our Company and lead. He was a new guy - what we call an FNG (And please don't ask me to tell you what those initials mean.), but because of his very essence - his character - he established himself right from the start as a leader. And I can tell you honestly Sandy, that those that survived that knew him - and there are still a couple of us left - would tell you that he not only left an impression of being one heck of a nice guy - but taught us as a leader - in a relatively short period of time - how to
get the job done and done right. That's what he left me. And I know this has been maybe too much - so I'll close by saying this. You live next to a battlefield of historical significance. I wrote about it once in an Afterward tribute to my great uncle who left me this incredible Diary of 1898 and his participation in the Spanish - American War: (in part) 'All warriors will attest - There is no such thing as perfect battlefield conditions. They have been know to grumble and gripe while performing their duty through incredible hardships. And performing that duty well. For some . . . It is the last that they do. As for the civilians? . . . They are the one's that suffer the most while
blowing around like dust on the winds of war . . . Long after the warrior has exited . . .Or perished from the battlefield. (This in reference to the many civilian hardships that resulted from that war.) I was at first wary of letting you read my story about 'Hill 362' I felt it was a little to graphic in detail and language. But it was what happened.

And your brother (and my friend) was a part of it. Yes it was extremely hard to write. There were times when I felt like (and did) get to points where I just wanted to rip it up and say to myself "To Hell with it! nobody would ever understand!" But, there was a driving force . . . My men. And those that served with me . . . And went through even more than I - while continuing to represent our fallen brothers and an ideology that we could define by blood but could not cement to reality. I have left it to the Marine Corps and our library as a memento. And to my children . . . If they should ever want to know. But, I came off that particular battlefield a different man. Wounded -yes. But your brother came with me. Wounded - yes - but he left me with something . . . A participation of his very beautiful soul. I went on to fight other battles in that war - and was much stronger because of him. I wasn't able to spend this Easter, as planned, with my youngest (13 - going-on-twenty) daughter Lacey. Caught the flu - and couldn't make it up here.

So I decided to pull my faithful pony 'Stang' ('91 Mustang convertible- 5.0) out of the barn and take her for a ride. Sometimes I like to ride hard and fast - and this was one of those times. She proudly wears 'Purple Heart' plates on her braw and aft. There is a gold star pinned to her medal (second award). And there's a gold plated license plate frame (that a brother presented to me) that says: (on top) YUKON and (on the bottom) L Company 3/5 USMC.
We had a great drive! Took her up through the Sacramento delta country on raised levies and hundred-mile-an-hour spurts. The sun was shining. Rice paddies - and pear orchards in bloom. Stopped to see a brother of mine.

Retired Gunnery Sergeant by the name of John Presnall. You may remember him from the story? And I brought another brother with me as I usually do. Don't want to mention any names - but I can tell ya - his soul is a part of me . . .

I hope you had a wonderful day - dear sister. And thank you for who you are . . . John

On Monday, April 05, 1999 2:32 PM Carol responds to Yukon's broadcast.
Dearest Friend,

I have read all you have written to Sandy, that you have sent me copies of. Your love comes across loud and clear. Your compassion for the family is clearly stated. I know you would take away their pain of the loss of their brother if you could. You are trying to lessen it with what you write. You are making a difference in their lives, as you have in others. Often we understand others because we are in need of the same thing. I hope that in some measure, you have gotten some of what you need in return. Something that I see here is your need of reassurance that you didn't fight in vain, that your brothers didn't die for nothing. You have lived with that for 33 years! I can't answer for all Americans, but this one I can. I do not have the words to tell you what I feel, but I think you know that I personally am very proud of all the service men who fought for our country in the different wars. I have always been ashamed of America for the way they treated the Vietnam vets. For treating them as criminals, instead of the hero's they were. And have been in a few arguments over it. Mostly during the time it was happening.

To me, those of you who fought in Vietnam gave more than any other veteran because you had to fight without the support of those at home. In fact you fought twice. In a foreign country, and in your own home land. The families who lost their loved ones have faced a country who didn't appreciate what they gave, they have suffered more than they should have, because of the stigma attached to the death of their loved one.

I think that there are a lot of Americans who feel as I do. I was 21 when you were fighting for your life, with a baby son of 2. You gave me the chance to raise a son who would become a Marine and fight one day himself. I believe that is one reason why, when many of our sons were in Desert Storm, America stood behind them. We were not about to let them down, as many of the older generation had done to you. What you do not know is, I would have beat the livin hell out of anyone who didn't back them. That is what more Americans should have done for you!

History is history, we can't change it. But we can make a small difference in today. By letting you know that some of us do appreciate your sacrifice for us. That we honor you for what you gave and for what you lost in doing so. And by letting the families left behind know that there are those of us who believe they gave the ultimate sacrifice of all.

I have cried through much of what you have written and the answers to it. If only my tears could heal the pain I would gladly shed more. Be proud of yourself for trying to ease the pain of Sandy and her family. For giving them something to hang on to in their on going grief (for it will last a lifetime). By what you have done, you have made their burden easier to carry.

You have made John live again for them.

I want you to know that I am fiercely proud of who you are, and what you are doing.
Lotza Love, Carol

On Monday, April 05, 1999 3:58 PM Sandy notices Yukon never sleeps like the rest of us… It's a Marine thing
Dear John,

What are you, an incorrigible night owl? Up Easter Sunday night until after 2:00 am?!? Also, it does not take a *@!?%*! rocket scientist to figure out the acronym FNG, so I shall not impose upon you to tell me its meaning.

Please forgive me for being parental or as an older sister, but, honey, with five lovely children you should not drive so fast; also you risk the chance of the California Highway Patrol waiting for you. Listen, bub, I just had
the miracle of meeting you, so you must be more careful and not drive so fast! Okay? Funny (peculiar that is) that you and Johnny both were with me in my thinking as you were speeding with yet another John as you "put the peddle to the metal" (who knows, the Vanderlippes and I may have been talking about you, John, and John as you were in the act of breaking the speed limit)! Yet, I do understand the exhilaration of just opening it up.

I don't live in Gettysburg anymore. Now live about 30 miles north, just outside the Pennsylvania capitol of Harrisburg. But once, many years ago, knew facts and figures about the Battle of Gettysburg and history in general.

My aged, addled brain has forgotten much. I would love to read your account of your great uncle's experience in the Spanish-American War. Might I prevail upon you to tell me of its publication so that I may find and read it? You are such a gifted writer whose style makes events real to me as I read.

Am concerned about scaring you away with my endless notes to you via this marvelous technology. Yet, I have no closure in losing John...and you're younger than he. John was the light of our lives; at least Dad, Mom, Grandma, and me. You see, John was my only brother. I am so tempted to impose upon you my wish to have a little brother again. Be assured, the last thing I would want to do is cut off any communication with you. However, I know too well my personality and tendency to overwhelm others with my joy knowing people I like so very much.

So, dear heart, if I impose/expect too much, just say so! You have wonderful blood and Marine families who love you. I know you said you've recently experienced a job loss, etc., but I would so like to help you in some small way as you have brought so much into my life. I have only two senior pups (Westies by the names of Daisy and Katie, both age 14 on February 26th) and an old, old parakeet (who was Mom's and called Mickey).

So, John dear, I shall sign off. Do NOT hesitate to tell me if I am steamrolling you. Trust me, I shall absolutely understand.
Sandy

Everyone talks a breather!
The story continues. Isn't this a great story?
On Friday, April 09, 1999 1:36 AM Yukon responds to a message from Richard

What the hey are you still up for? I've got to talk to Gail and get your late night wanderings cut off. Will read and get back to you.
Thanks Bro.
Luv Ya and Semper Fi!
John
On Friday, April 09, 1999 1:45 AM Richard responds to Yukon
I have no time to sleep, there is a life to live. We all learned that back in the sixties. Don't you know... My man, I still can't get over this. How are you doing since we talked earlier this week. Have you come down yet? I haven't!

John, this story is so close to me I can't tell you how much it has effected. I've been a mess from the very beginning. When we see each other in TX I'll tell you why.

I am signing off, I've got to be up at 0700 tomorrow. Our Chaplain of my VFW is being laid to rest. I always attend these funerals, particularly for the people I really liked. Joe was a good soldier.

By the way, I was elected as the Quartermaster for our VFW Post tonight. I've been the Jr Vice and Sr Vice, Quartermaster is probably the best job so far at least I get paid for this one... Ha ha ha...

Lov ya bro
Richard

On Friday, April 09, 1999 1:53 AM Yukon writes Richard
Thanks Bro! I'm reading your very well done piece. Excellent! I talked to Sandy tonight and it was awesome! Glad to have been a part of a happy story for a change. Keep up the good work. You are incredible, my friend! Love Ya! and good night - you should sleep good after all of this.
The story continues . . . Yukon
On Friday, April 09, 1999 1:57 AM Yukon writes Richard
By the way. I am a Commander and Past Commander of Mt. Lassen Capt. 128 of the DAV. I have found while in this position - that more Marines participate then any other branch. I have a feeling that's the way it is through all of
the Veterans groups.
John

On Friday, April 09, 1999 4:28 AM Yukon writes Richard
"Angels love bad men. They are the first to fall - with their hearts against a wall." Remember that song by the Highwaymen? Well, I have certainly run across a lot of angels lately. And their hearts are still tickin. Just fine. And, no I haven't come off the high yet. Will share some more e-mails. I had a long chat with Sandy tonight. It was great! What a wonderful person. She had sent me the pictures of John along with a nice letter. We had a good time on the phone and will talk more. I told her I was going to try and make it to Gettysburg for Memorial Day. AND WILL! I don't have a job right now and not a hell of a lot of money. But I have a lot of love. And I have found that - that's all I really need. All of this has helped me so much - you can't imagine. Second thought - yes you can. And thanks for your support my friend and Brother. You are supposed to be retired ya know? And, yet you just keep workin yer little hind end off.

Great job with the presentation of An Easter Story. It truly was that for me. And by sharing it with the others will help to bring peace to others. I regret the job you have to do today with the funeral and all. Know that I am with you my friend. Remember this: "We start dying the day that we are born. It's what we do with the rest of IT that counts!" Love You and Semper Fi! Will be looking forward to talkin with you at the Reunion! (if not before)
Yukon
On On Friday, April 09, 1999 12:35 AM Yukon writes Sandy
Dear Sandy,
Awe the hell with it I'm going to call you right now and will get back to this later. 1823 and your line is busy. Will try again soon. You're probably on line so I'll zap this your way. I finally went to see my mother today and would like to share this with you. I asked her for answers. I asked her for wisdom and help with dealing with pain. Internal pain. (Eternal?) I asked her once again for forgiveness for causing her so much pain over the years. The shenanigans as a boy growing up and getting into trouble. The young man going off to war. We had an argument a year or so before she died. About death; She was on my case about looking at that eventuality. About wills and stuff - and where I would be buried. Ticked me off! Told her I didn't want to end up in anymore fighting holes. That I'd prefer to be dust blowing in the wind - over my mountains and my seas.

She had tears in her eyes as she bounced back with "I want You and the rest of my children, and their children - to know where I'm at and where I'll be!" She had a point. At her funeral my daughter Lacey (five at the time) seeing the tears in my eyes came up to me and put her arms around me and said, "It's all right Dad. She's in your heart now." Blew me away! - As if I had stepped on another land mine!
She is . . . Forever . . .

LORNA E. HARRIS
1ST LIEUTENANT
US ARMY WWII
SEP 2, 1917 - OCT 30, 1990

Reads the bronze plaque over her grave. Real nice setting. Park-like. On a hill overlooking the Central Valley of California. Rolling hills of velvet green this time of year. Lots of oak trees - Mount Diablo in the background (Mountain of the Devil). There is a big oak tree providing shade close by her grave. My mother had also been a warrior. She had been an army nurse in World War Two - and then a civilian nurse most of her remaining life. Went into Normandy right after D Day and then slogged her way through the mud of France and Belgium. Saw a lot of pain along the way. Went through the V-1 and V-2 rocket attacks of London. Fortunately never got hit. She was very wise. Had lived life. And in spite of all of the pain I had caused her over the years . . . Was my best friend and confidant. I could talk to her about anything. My mother was an individualist. Didn't always appreciate it in me. But she accepted it. Had to . . .

I don't know about you (And I just had the best phone conversation with you a little while ago.) - but I never hear any voices or anything like that. Just come away from her resting place with a feeling of calm. So I came home. Retrieving my mail as I walked to the apartment. Your 'snail mail' was there. And the pictures. Yes! He is exactly as I remember him . . . Thank You! And, I got your e-mail also. Could see you hopping off that tractor and fetching the rabbit. I'm thoroughly convinced that my mother is still looking over my shoulder. I love her and I love my brothers
and my children . . . And you.
Take care sister. John
On Friday, April 09, 1999 12:14 AM Sandy writes Yukon
Oh my dear John (Peggy too),
I am so excited after talking with you and hearing your lovely voice, there is just no sleep in me! Ordinarily, I am a very early riser and thus, find it difficult at times to stay awake after 8 or 9 P.M. It must have been providence I was still in a non-sleeping mode when you called as I seldom hear the telephone when I am sleeping. Am now having a glass of wine so it will bring on the sandman!

Am thinking of something to assure you and Peggy might positively plan more re: the May event with the traveling Wall in Gettysburg. So, I must ask that you promise me in advance you will accept what I'm thinking about. I'll
explain more later.

How much you express yourself as our John did. I cannot yet believe how I could be so blessed after so many years (trust me, I am not a religious person, even though I tend in the last many years to live like a nun except for wine, beer, cigarettes, and unbelievable rude/crude language!).

I am so happy you called. I should have called you, but I hesitated thinking I would get all weepy and maudlin. I think that's why I have not had the courage to call Captain Tatum...maybe after talking to Wayne on Sunday.

I trust Peggy gave you that hug for me. No, I know you didn't tell her so do it now! Heaven knows, I hold you so close. Well, I've lurked on here long enough so I know you'll log on later. Cannot wait 'til morning to receive
your pictures.

Lots of love to you and Peggy,

Sandy

On Friday, April 09, 1999 2:02 AM Sandy writes Yukon
Dear John,
What am I still doing up at this hour of the morning? I have no idea except I could not wait until later to see your pictures (will download so soon as I get off although it may cause an early trip to Office Max to get photo quality paper). Clearly, the "several" glasses of wine are not doing the trick except my vision of the monitor is a little fuzzy!

John, trust me the disagreement you had with your Mom would never have lasted in her memory. Mothers only remember the joy of their sons; they are many and warm. That particular subject was uncomfortable and unhappy for me too when Mom and I had it. Yet, I find myself encouraging friends to have it with their spouses and children as it was so necessary when Mom became ill.

Lacey was more right, however, that your Mom will always find rest in your heart (now she's in mine too although she's probably swapping stories with my Mom, Dad, Grandma, John, your Dad and grandparents in that wonderful place souls unite and watch over us).

Well, I think the wine is finally getting to me. Can't type worth a damn. Sure hope this spell check works tonight.

In conclusion, tractor? In my dreams! It's a push mower...well, not exactly, it has that feature which (on good days) propels itself.

Now that I've received your kind photos, will sign off, retrieve them, and gratefully go to bed! So good night or good morning...whatever.

With many good thoughts and love,
Sandy

On Friday, April 09, 1999 2:19 AM Sandy writes Yukon
Okay, smart guy, who is that with an MG older than mine? Your Grandfather? What is it a TC or TD? And you let my high handedness go without mention when we talked. For shame!

Your daughter is gorgeous! Not to let your head swell, but you are too.

Well, goodnight again. Again you have more than made my day, night, and (I can't believe it) morning though had not hit the sheets! I better think about getting another wine! Plus, will not breath again for a week with all the cigarettes I've consumed today!
Sweet dreams, kiddo,
Sandy

On Friday, April 09, 1999 5:23 AM Yukon responds
Dear sister,
We are clasics - aren't we? I will be honored to stand by your side on Memorial Day - this year. I will be there. You can count on it. Resolve the stuff with Ann. I have a hard time with families divided. And, I want both of you next to me.
Love!
John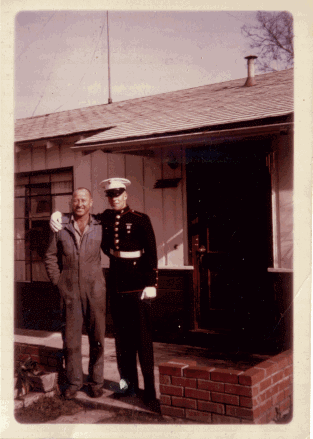 John F Harris with his father