Profiles Of Courage

BROTHERS
The little town of Brady is found in the Hill Country of central Texas. Almost smack dab in the middle of the State, which is why folks there refer to it as the 'Heart of Texas'. As with so many small towns in Texas, the proud young men of Brady would don the uniforms of this Nation and serve in one branch of the Armed Forces or another. Particularly during times of war.
Of six Torres brothers – all joined the military to serve their Country. Two of them, Raymond and Benito, chose the United States Marine Corps. There's really nothing unique about that. Other families have produced Marine brothers before. But, these two brothers have two things in common. They both served in the same rifle company in Vietnam, although at different times. And, both were wounded in action during the performance of their duties while with this company.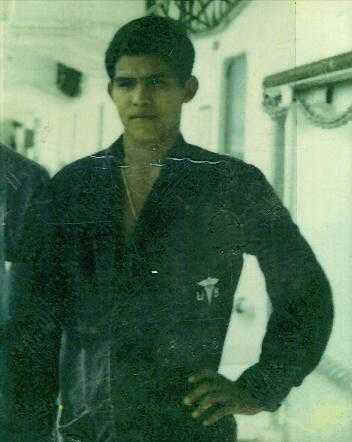 Raymond enlisted in the Marines first. In November of 1967, he joined Lima Company, Third Battalion, Fifth Marine Regiment in Vietnam as an 0331-Machinegunner. He was hit in the legs by shrapnel on June 6, 1968, while on patrol, and med-evaced from the country.
Benito was still in high school when he learned that his brother had been wounded. He and his buddy, Reymondo 'Rey' Sanchez immediately enlisted in the Marines. They went in on the 'buddy system'. They went through Boot Camp in San Diego, CA together, and then went off to Vietnam together. That's where they parted company. For a while.
Benito was sent to First Battalion, Fourth Marine Regiment (1/4), and his friend, Rey Sanchez, by a stroke of luck ended up with Lima Company, 3rd Battalion, 5th Marines (Raymond Torres's old rifle company). Rey served as an 0341 – with Mortars.
After about six months with 1/4, Benito devised a plan to get into L Company, 3/5. "Not enough action going on in 1/4," he says, "And I wanted to be with Rey." Plus he remembered "My brother didn't get a chance to finish his job with L 3/5 . . . I wanted to finish it for him."
There's an amusing story of how he managed to talk his way into a transfer to the 5th Marines. Then, he finagled his way into Lima Company. By that time, it was October of 1969. Benito was assigned to the company as an 0311 - rifleman scout. He was happy – and he was 'home'.
Maybe it was because he was part Comanche and he had grown up tracking animals and reading trail, but many times he was selected to walk 'point' – while looking for the enemy.
On December 29, 1969, his squad hit a massive enemy explosive device while on patrol. It is believed the explosion leveled five men. Benito was one of them. He survived, but lost both of his legs. To this day, he can't remember whether he was the point man or not.
When you enter Benito's modest home in Brady, the American Bald Eagle with the American Flag in porcelain and paint is seen on every wall and in every pose of flight.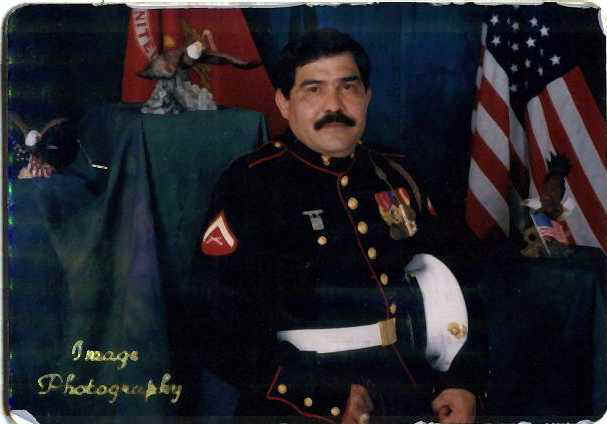 His Comanche heritage is there too - in feather and flint. And, of course, the Marine Corps is proudly displayed everywhere you look. His medals highlight one wall, while the others are full of pictures of his family. The rooms reflect the pride and love of a dedicated man. His parents, son Ben, and daughter Jean, are among the many pictures which also include grandkids, brothers and sister, nephews and nieces. He is a role model to many, including his nephews, Ben and Victor, who stop in and help him with household chores. His younger sister, Mary, also lives close enough to stop by to visit him often.
When I asked if he had any regrets, he told me: "In spite of everything. The long road to recovery and the pain - I'm proud of being a Marine, and I'm proud to have served my Country with Lima Company 3/5." He continued "The only regret I have, is they didn't take me seriously when I wanted to go back to the Nam."
Understanding the desire, but curious - I asked him why he'd make such a statement. He said "Well, once I got used to the wheelchair, I realized I could carry more guns, ammo and grenades than I ever could have carried on foot." He went on, "If they'd have just sent me back and put me on a hill in front of the enemy - I could have rolled that chair downhill loaded with guns and ammo . . ." With eyes glistening, he concluded, saying "and finished the job for Raymond and me."
In Benito's citation for the Bronze Star Award for valor, it reads in part: '. . . and exemplary performance, Lance Corporal Benito Torres's dedication to duty remains a constant inspiration to the men of his unit.'
Well, you're an inspiration to me, my friend. Semper Fi!
Yukon